About the City Council
As the legislative body, the City Council is responsible for setting City policy through ordinances and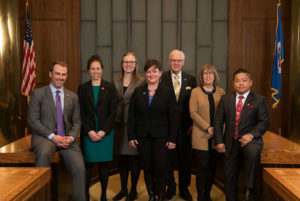 resolutions. The Council also has sole responsibility for adopting the City's budget. The Council legislates by passing Ordinances which become City laws. The Council also makes performance auditing decisions and monitors the operation and performance of city agencies and holds regular oversight hearings on city departments to determine how programs are working and whether budgeted funds are being spent well. In its decision-making roles, the City Council actively involves public through its weekly public meetings. (NOTE: The meetings are seen live on cable TV and via webcast. Videos of past council meetings and agendas are available here and goes back to 2006 by clicking on the "Research" tab.) In addition, the Council acts in a quasi-judicial role in hearing appeals regarding actions taken by a number of City agencies.
In addition to their duties as Council members, the City Council serves as the Board of Health and as the directors for the Public Library Agency and commissioners for the Housing and Redevelopment Authority (HRA). Representatives from the Council are members of the boards for the Saint Paul RiverCentre Convention and Visitors Authority, the Saint Paul Port Authority, the Joint Property Tax Advisory Board (JPTAC), and the Board of Water Commissioners.
Term of Office
Council members are elected to a 4 year term. The current term runs through the end of 2023.
Council Information Booklet
For more information about the City Council, attending meetings, public hearings, etc., go to the City Council website.
Council Members