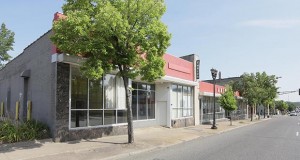 A planned business incubator in St. Paul's Dayton's Bluff neighborhood is the next step in an effort to turn East Seventh Street, a road once dominated by car dealerships, into a more people-oriented and entrepreneurial corridor, community planners say.
City officials awarded the incubator a $350,000 Neighborhood Sales Tax Revitalization grant this year – the largest award in the 2016 batch.
The STAR funding is a critical piece of the $2 million endeavor to revamp an old Chevrolet car dealership at 809 E. Seventh St., said Jim Erchul, the executive director for the Dayton's Bluff Neighborhood Housing Services.
"We wouldn't be able to do this without that [STAR grant], because of the mathematics of financing a project like this," he said. "It just doesn't work in terms of what you can get for rent versus what it would cost to renovate that building."
The building will need a new roof, brick work, heating and cooling systems and an interior makeover to accommodate the new uses, Erchul said.
The Dayton's Bluff Neighborhood Housing Services organization has been leading the charge on the project along with St. Paul-based Neighborhood Development Center, which manages other business incubators in the Twin Cities and offers entrepreneur training.
The groups want to turn the building into an aspiring entrepreneur and contractor haven, with space for construction materials, a shared co-working office and room for a few small businesses.
One of the main goals is to get young people and business owners "rubbing elbows" as companies grow and look to hire people, Erchul said. The incubator will be especially good for contractors because of the space available to store materials, he said.